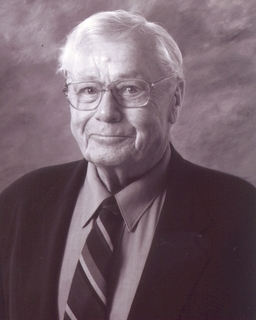 We honored William 'Bill' Kehoe for the 2004 Citizens of the Year Award for his many accomplishments and generosity to the residents of Sherburne for many years. Let's look back from whence he came.
Bill's grandfather, Andrew Kehoe came from Ireland and lived with Thomas Mulligan and his family until he was married to Mary Anna Fagan. Bill's father, James Kehoe, was born in 1882 in Sherburne and attended the Sherburne School. He worked for C.F.Foster, the undertaker in Earlville as an assistant and then attended CCBI in Syracuse to be a mortician. He then bought out Mr Holmes partnership with Walter Benedict. Jim married Anna Grace O'Connor and they had five sons—Richard, Donald, James, William and Kenneth. When James died his brother, Walter took over the partnership with Benedict. As a young boy Bill always helped his father with setting up chairs and taking them down, so I guess he was 'born to the business.' Soon this partnership evolved to Walter Benedict and Fred Fox, his son-in-law.
Bill was born in 1926 and attended the Sherburne schools and his parents owned a farm on Shawler Brook Road, which is now the Handsome Brook Trailer Park. After graduating he served in the Navy and during this time his dad passed away. When Bill returned home he bought the funeral business from Fred Fox, as it was only natural for him to follow the family pattern and the firm was known as Benedict and Kehoe. Like so many of those in the undertaking business, there seems to be a connection to the furniture business. Bill married Hermene Bauer and their children are Kathleen and Walter. Bill and his wife make a yearly visit to Ireland, the home of their forefathers where they have established many friendships. The Kehoe family bought the Opera House in 1955 and with a lot of remodeling it was a large furniture establishment. From 1959 the funeral home was located in his residence, until 1976 when the new Kehoe Funeral Parlor was built at 42 South Main Street.
Bill's list of ventures, organizations joined, offices held and membership lists read like a 'who's-who'. He served as Town Supervisor for three terms and has served on many boards and committees. He has served as President, Treasurer and Trustee on the Sherburne Library Board. He was responsible for bringing the old bandstand at Rexford Falls moved to Gaines Park and restored; also the old district schoolhouse from Columbus moved, restored and given to the Town of Sherburne, where it sits in our Historic Park.
One of his proudest moments was when he was presented by the National Republican Congressional Committee with the New York 2003 Businessmen of the year award, on March 18, 2003 at the Hilton Washigton Towers Hotel in Washington, DC. Bill was presented this award for his patriotism, generosity and accomplishments over the past year. Bill passed away in 2005. HE IS CERTAINLY DESERVING OF THIS AWARD!