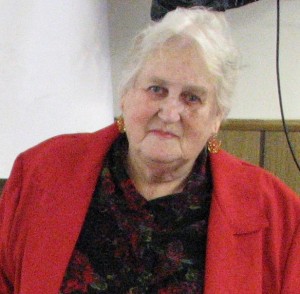 Rose is delighted to be able to trace her ancestry back to the earliest history of this area. She has a full, historic ancestral background, with several proven lineages back to the Revolutionary War, and to the Wing Family before then.
Smyrna, known as the eighth township of the Governor's Purchase, or Chenango's Twenty Townships, was taken from the Sherburne township on March 25, 1808.
The first Smyrna settlers were Joseph Porter and his wife, who came here from Conway, Mass. in August 1792, and settled near Pleasant Brook, which runs southwest from the Chenango River. After a few months Mrs Porter died and her husband moved on west, never to return.
The second family to arrive was Porter's friend Joseph Tobey and his wife, Elizabeth Pope. Also from Conway Mass, they were here by March 1793, along with their three year old son John P Tobey.
Another family to arrive here about 1810 from the Massachusetts area was David Wing and his wife, Desire Vincent. David descended from the famous Wing family of Barnstable, Massachusetts. Their daughter, Temperance was the third in a family of 12 children. When they moved on to Homer, NY after having lived here for a few years, Temperance Wing had married John P Tobey.
Luke Hall, a Revolutionary War veteran, came here from Connecticut to occupy land in the northwest section of Smyrna, later known as the Hall District. His grandson, Erastus G Hall later carried on ownership of the farm, marrying John and Temperance Tobey's daughter, Hitty. These were Rose's ancestors, all having to do with the settlement ofSmyrna.
Rose's great grandfather, James K Deyo from the Lebanon area, enlisted with the 61st NYS Regiment of the Sherburne area, and was buddies with Charles A. Fuller and Isaac Plumb, Jr. who fought in the Civil War. After the war, James' wife died and he left two children here to be adopted into other families and moved west to start another family. His son, Fred Deyo was adopted by the John Morgan family ofLebanon and took his last name.
On Rose's mothers side of the family, she descends from the Jaquay, Doyle, Chesebro and Armstrong families of the Brookfield area and connects to the Lawrence family of Sherburne through the Doyles.
Rose's parents were John Morgan and Hazel Jaquay. Rose was born November 2, 1932 on Shawler Brook road in Columbus and grew up an only child. She and her parents lived in Earlville with John's parents, Fred Deyo Morgan and Genie Hall Morgan, until she was fourteen. She learned much of the family history and customs in this environment, so was early involved with history and genealogy.
Her father, as an only child and at an early age, through his desire to learn knew how to do many things. At the age of 14 he wired his parents home for electricity, just from what he learned in a book.
Rose attended Earlville Central School, graduating in 1950, with a desire to be a journalist. Instead, she married Charlie Wellman, a Sherburne boy, on October 14, 1950. It took her 48 years to reach her journalist goal!
As Charlie was a farm laborer, they spent many difficult years moving from one tenant house to another and raising their eight children, but looking back, she says it was all worth it.
One of their first homes was here in the village of Sherburne in the old Ganley Block. THis had been moved fromWest State Street, up Canal Street, to Henry Street extension, where it was made into apartments by E P Smith. Both Rose and Charlie worked at Taco during several periods of their lives.
By 1963 they bought a house on Tinker Ridge near Plymouth, NY. where they raised their family. Charlie had a job working in the construction field and Rose worked at the Shoe Factory and Gladding, and between times, at Taco. In 1975, while working the night shift there, she was crossing the road at supper break and was hit by a car, causing much damage to her right leg, which probably accounts for her lameness today. By 1977 she had decided she could no longer work on concrete floors so started bartending in the Central Hotel onWest State Street. A fun job, she worked there until 1985 when it was time to retire.
By this time most of their eight kids were out on their own and they had moved to the village of Smyrna. Charlie was working for a company in Maine and had a chance to travel, so they bought a trailer and traveled wherever the company sent him. In the fall of 1985 they went to Asheville, N.C. where he worked on a bridge in the middle of the city. It was a beautiful area, settled in a bowl amid the mountains and just minutes from theBlue Ridge Mountain Parkway and the Smoky Mountains. They spent every weekend exploring the wonders of those fascinating views, which changed from winter to summer.
In 1987 they were sent to eastern CT. and Charlie worked several different sites in that area, where they made some lifelong friends among the employees he worked with. While there he was asked to go to N.C. to troubleshoot a bridge over the Albemarle Sound, near Edenton, where their oldest son lived. They spent the winter of 1989-1990 there, enjoying their two granddaughters.
By the spring of 1991 they had decided it was time to make a move back to the Sherburne area and they bought a trailer, just east of Sherburne and Rose's mom moved in with them. With time on her hands, Rose got back into family history and genealogy. They added onto their trailer in 1996-1997, during which time their youngest son, Tommy passed away, leaving a terrible hole in their hearts and lives. But they went on. Charlie had retired from construction and worked locally for friends whenever he wanted to.
It was in the fall of 1997 that the position for Town Historian was advertised in the Sherburne News and Rose thought, "I can do that", so she applied and was accepted. She did not know much about what was involved, but she thought she could muddle through. Well, it was interesting and fun work—the more she learned, the more she wanted to know and the rest is history.
Rose recently became the Historian again and spends her mornings at the log cabin. She has in the process, become a registered historian and plans to do more writing, research and volunteering. She has lots of family history to pick up and go on with. Belonging to the Sherburne Historic Park Society and the Earlville Quincy Square Museum, there is much to occupy her time.
She was honored to be chosen as Citizen of the Year for 2007 and joined the ranks of those whose names are on the plaque, which has a prominent place in the Historian's Office.