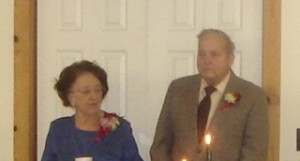 John and Betty McDaniel are one and the same with the Sherburne News, so their story must start with a little history about our local weekly newspaper, which has been in the same family since 1881, when John H. O'Brien was the editor. He was also the village clerk and trustee and went on to become the Town Clerk in 1884. With John H as owner and editor, his nephew, Harry McDaniel soon became the editor and eventually took over the Sherburne News. On June 11, 1911 John H. O'Brien sold the newspaper material and its goodwill to his nephew, Harry J. McDaniel and his partner, Ray Howard, but continued as editor until his death April 7, 1913. John H. was a careful and painstaking newspaperman and during all his years as editor he was never known to speak or publish an unkind word against any living person. This is a trait that has carried down through to John McDaniel, his great-nephew.
Now we come to the connection between the O'Brien and McDaniel families. John H. had an older sister Julia O'Brien, who was born February 12, 1854 and married Jay McDaniel. Their children were Charles, Mary, Nina, Elizabeth and Harry McDaniel. Jay and Julia McDaniel were John's grandparents.
John McDaniel began working in the newspaper office for his father, Harry McDaniel, helping put out the weekly edition when he was only 14 and still in school. He learned the trade by working hard and eventually could do anything required, even run the linotype machine, which he has used since 1936. He graduated from Sherburne High School with honors in 1938, at 16 years of age, with a college entrance diploma. He could have gone to any college in the country at that time, but he chose to stay at the newspaper with his father.
When World War II broke out both of Harry's sons, Harry Jr and John chose to enter the service on August 12, 1942; both serving as Army Combat Engineers in the Asiatic Pacific Theatre, where Harry was killed in the line of duty. John came back into the newspaper business with his father and as he settled in to civilian life he made plans to marry and start a family. He and Elizabeth Tibbens or Betty as she is fondly known to all, were married on July 8, 1950 at St Malachy's Catholic Church with Rev George Hurley officiating.
Besides raising their nine children, Betty also worked outside the home; as a bookkeeper at the I L Richer Company and served with Larry Taylor. She was connected to the Sherburne-Earlville School system for twenty-five years and was affiliated with several organizations. She was especially noted for her many cakes made to order for weddings, birthdays and special occasions.
John liked to keep the Sherburne News a Good Neighbor in this rural Chenango County village of 1600 + people. He says, "We never print anything that's harmful." His byword has always been "If you can't say anything good about someone, you might as well not say it. In a small town you can't pick sides—it doesn't work."
John has also been our Town Clerk for 56 years and had only one competitor at election time, which he unanimously defeated. He has issued marriage licenses, birth certificates, hunting licenses and dog licenses. Some of these marriage licenses he has issued to the second generation of the family. John says the large safe in the town clerk's office goes with the job and it is too large to be moved. His wife Betty has been his bookkeeper, errand runner, coffee maker and side-kick all this time. John and Betty have raised nine children, all of whom have gone on to attend the college of their choice. John often has remarked, "That's pretty good for a country printer of a small town newspaper."
We have here the history of quite a multi-generational family who have kept the news of Sherburne in our hands since 1881. We all know the story now and we are proud to bestow this prestigious honor on you, John and Betty McDaniel. Congratulations on being awarded the Citizen of the Year for 2006!