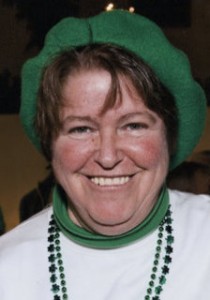 The recipient of the 2010 award is Peggy O'Connor, who spends her days behind the counter at the Sherburne Post Office, answering related questions to her work. Being Irish, she always has a smiling face and knows most people by name when they come to pick up their mail or send a letter or package.
Peggy descends from some of the best and most influential people who have lived and worked in Sherburne, and she is Irish through and through! Her father was Leo T O'Connor, who worked in the post office in both Sherburne and Earlville; and her mother was Lois Matteson O'Connor, who worked at Christman Motors and Norwich Pharmacy. They lived on Chapel Street during her growing-up years. Peggy has been on the Committee for the St Patrick's Day Parade in Sherburne since its start 10 years ago and works tirelessly with her sister, Kathleen, on the committee for the St Patrick's Day Parade each year.
Peggy attended and graduated from Sherburne School and Niagara University, majoring in business and marketing. Her first job was waitressing at Lewis' Restaurant and she has been a clerk at the post office since then.
Her ancestry is full and complicated with Irish names.
Peggy's grandmother, Katherine A Daniels O'Connor was also born in Sherburne, most likely on the Daniels farm, which was located on the top of East Hill. Katherine was also from a large family, being the 7th in a family of 10 children of Thomas O'Daniel and Mary Ann McCormick
Friends and family of Edward and Katherine, including their children's school friends, visited so often that for a time a sign "Hotel O'Connor—Dining Alcove in the Rear" hung from the front porch at their home at the east corner of East State Street and Union Street. Katherine finally had to take it down when tourists stopped to inquire about a room.
On the O'Daniel's side, Peggy's great grandfather, Thomas O'Daniel, was born in 1840, in Sherburne soon after his parents arrived here from Ireland. Peggy's great grandmother was Mary Ann McCormick who was born in Castletown, County Tipperary, Ireland and came to America in 1850 with her parents, Andrew McCormick and Bridget Halbert, and they settled in Sherburne. She and Thomas O'Daniel raised 10 children on the family farm on East Hill.
On the O'Connor side Peggy's great grandfather Edward O'Connor was one of 8 children of Mathew O'Connor and Bridget Whalen. Edward O'Connor married Bridget Macksey, who was Peggy's great grandmother.
But what I started out to do was give you some idea of the strong, hardworking, Irish background that makes Peggy O'Connor who she is today and we are proud to honor her as our
She descends from many good Irish residents of the Sherburne area and is proud of her Irish heritage.